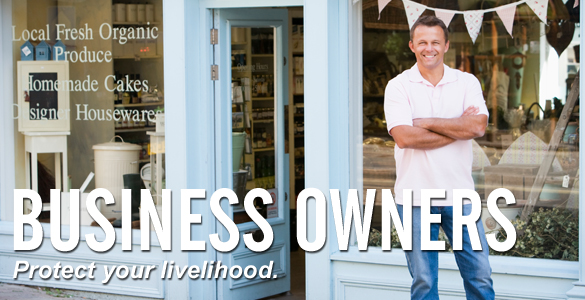 Business Insurance
RJS and Associates provides Business owners Advantage policies is designed to provide affordable quality protection for retail business and offices. It contains a host of special optional coverages to address your specific needs.
Property Protection
Business owners Advantage includes coverage for your buildings, permanently installed equipment, outdoor fixtures, business personal property (including computer systems), electronic media and records, and your interest in tenant improvements and betterments.
Other coverages can include:
Accounts Receivable, Money and Securities, Forgery or Alterations, Debris Removal, Outdoor Property, including signs, Newly Acquired Property, Property in Transit or Temporarily Off Premises, Valuable Papers and Records (cost of research), including electronic or magnetic media, Property of Others while in your care, custody or control.
Liability Protection
Liability coverage is valuable protection in the event you are sued due to a negligent act in the course of your business. This important protection is an automatic feature of Business owners Advantage, and is available in various amounts to serve your needs.
The following items are included:
Premises and Operation
Hired and Non-owned Auto*
Products/Completed Operations
Personal Injury
Advertising Injury
Fire Legal Liability
Medical Expense
Primary and Noncontributory Coverage*
Waiver of Subrogation
      *Available in most states.
Loss of Income
Your business income is paid, up to twelve months, when your business is interrupted by an insured peril. Business owners Advantage also pays for certain extra expenses needed to resume normal business operations.
Special Features
In addition to the coverages outlined here, you will also benefit from special features found in Business owners Advantage:
Replacement Cost Coverage
Pays the cost of replacing your buildings or business personal property with materials of like kind and quality at current prices. Coverage on an actual cash value basis is optional.
Equipment Breakdown Coverage
Covers physical and financial damage from an insured equipment failure. Coverage for many types of equipment including: electrical distribution systems, HVAC, telephone and electronic systems and equipment.
Automatic Increase in Insurance
Prevents inflation from devaluing your insurance protection by automatically increasing the amount of coverage on your buildings each year. A choice of percentages is available on an optional basis.
Peak Season Coverage
Increases your limit for business personal property automatically – a valuable feature if your inventory fluctuates seasonally.
Deductible Options
Allows you to choose higher deductibles for additional savings.
Premium Discounts
Lowers your payments with credit for qualified protective systems.
Payment Plans
Spreads out your premium payments to free up capital for current business needs.
Other Optional Coverages
Depending on your exact business needs, you may want to include some of the following coverages in your policy:
Utility Services – Direct Damage
Employee Dishonesty
Employee Benefits Liability
Outdoor Signs in Higher Limits
Accounts Receivable in Higher Limits
Valuable Papers & Records in Higher Limits
Earthquake
Spoilage Coverage