It can be an intimidating process to look for an employer health policy… 
What can my budget get me?

How many carriers are out there?

Can my employees keep their doctors?

How can I add dental and vision at an affordable rate?

What are the laws and regulations when offering health insurance?

How do I keep track of COBRA notices and make sure I stay in compliance?
---
RJS and Associates takes all the guesswork out of purchasing an employer health plan. We handle most of the administration and make sure YOU stay in compliance with the IRS and BOLI.
---
Small vs. Large Employer

There are many differences between a small and large employer and it is important to know where you fit. RJS and Associates Insurance Agents are licensed and trained to assist you in finding the RIGHT insurance policy for your companies needs. We also offer services to help keep you in compliance with not only the insurance carriers but the IRS and BOLI, and work with your CPA to avoid HEFTY IRS PENALTIES.
As always our services are FREE!
---
Insurance Company Differences
Large Employer

50+ employees

Traditionally better rates
More Options
Richer Plan Designs
Rate Negotiations
Much More

Small Employer

 

2 to 49 employees

Oregon law prohibits owner + spouse ONLY policies. There must be at least 1 W-2 employee that is not a spouse to enroll .
Filed Rates – Rates are non-negotiable and are filed with the state annually. The rates are what they are.
Base and Buy up options are available – You may offer multiple plans to your employees and only need to contribute 50% of the

baseline

plan to be in compliance.
Payroll and other documents may be required upon enrollment.
IRS Differences
Large Employer 

50+ FTE Employees

Full Time Equivalent (FTE) employees must be calculated to determine 

employer size. You must take all full time employees (30+ hours per week, average) add those employees to the part time employees (take all monthly hours of part time employees and divide by 120 to see part time – full time equivalent employees). Add full time and part time equivalent employees together to see your FTE #.  

Click here for more information.
Must offer AFFORDABLE / MINIMAL ESSENTIAL COVERAGE or face large IRS penalties to all eligible employees and their dependents
Annual IRS reporting required. Not reporting will result in additional penalties
Do you own multiple businesses? You must add up all employees from all of your majority owner businesses and if they add up to the above (50 or 100 FTE) you are considered a large employer and must report and offer coverage.
And much much more. Please call our office for more information.

541-929-2788

Small Employer

1-49 FTE
IS NOT required to offer health insurance to employees
Employee notifications required
No reporting requirements
Small Employer Tax Credit available for those that qualify
---
About Our Online HR Library
Our online HR library is an award-winning online library that delivers comprehensive, easy-to-navigate human resources and benefits news, content, tools and forms to companies nationwide. Alternatively We provide our clients with a new, award-winning online library that delivers comprehensive, easy-to-navigate human resources and benefits news, content, tools and forms to companies nationwide.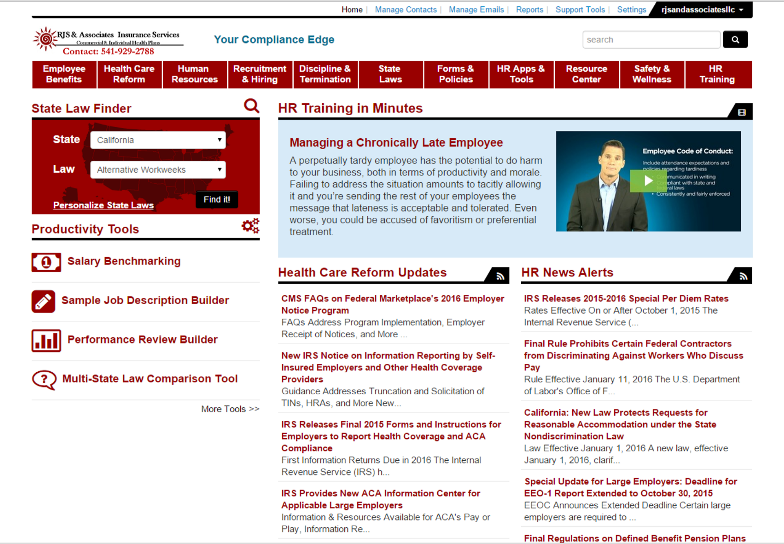 Our online HR library also features dynamic interactive HR tools such as a job description builder and a salary benchmarking tool. You'll also find easy, step-by-step guidance on how to comply with major laws including Health Care reform, COBRA and FMLA as well as key HR functions such as hiring and terminating employees. Whether you have five employees or 500 — our comprehensive, easy-to-use site makes it easy to stay compliant.
ALL RJS & ASSOCIATES EMPLOYER CLIENTS GET UNLIMITED ACCESS TO OUR HR LIBRARY.
CALL TODAY TO GET YOUR ACCESS.
Online HR Library Features:
Interactive compliance guides that provide step-by-step direction on how to properly conduct performance reviews, interview, hire and terminate employees
A Benefits Compliance Calendar
Step-by-step interactive guide for implementing COBRA and FMLA
Fast, efficient online HR tools for developing job descriptions and salary benchmarking
Over 700 downloadable forms, posters and model notices
Federal and state employment law information
Monthly HR and benefits newsletter
---
Some of the Carriers we work with:
---
Assistance and/or resources available for the following:
Employer Health Plans/ 
The HealthCare Reform / ACA / Afordable Care Act / OBAMA Care / Healthcare.gov / Cover Oregon / Oregon Health Plan / Oregon Healthy Kids 
Call:  541-929-2788 for assistance